News Updates
07/12/2007 @1100hrs: The Police Funeral for Plano Police Officer Dayle Weston Hardy was held today at the Prestonwood Baptist Church in Plano, Texas. Over 200 Police Motorcycles and hundreds of marked and unmarked police vehicles converged on the area carrying over 2,300 Law Enforcement Officers from Police and Federal Agencies to pay tribute to our fallen comrade.
After the service, the funeral procession, which spanned several miles, was led to Boyd, Texas where Officer Hardy was laid to rest.
07/10/2007 @ 2030hrs: The Candle Light Vigil for Officer Hardy was held at the Plano Police Department's 801 Substation. The service was led by Plano Police Chief Greg Rushin, and Assistant Police Chief Ed Drain with Invocation by Plano Police Chaplin Robert Matthews and Benediction by Plano Police Chaplin Roy Fradies.
The Motorcycle Officer
(as read by Assistant Chief Ed Drain)
It sounds like thunder far away, but the skies are blue and bright...
And soon they crest the hill nearby, and ride into our sight.
They shake the ground with powerful sound, and they make some hearts beat fast...
They look so proud and noble, like Knights come from the past.
Side by side, they always ride, and seem to move as one...
From early in the morning light, to the setting of the sun.

And children point and wave to them, from cars that pass them by...
And young ones ask their parents, why the men have mirrors for eyes.
They ride the roads, and fight for good, and defend small ones like you...
They ask to ride, and do with pride, and sometimes they are few.
Like men of steel, on Silver Wings, they sparkle in the light...
then with a roar and rumble, they ride out of our sight.
Sometimes when one has fallen, never to ride again...
You can hear the others calling, like thunder on the wind.
Side by side, they slowly ride, and their thunder is a mournful sound...
And the mirrors hide their eyes from us, when teardrops fall to ground.
So if you see one riding, and you look into his face...
You see your reflection in his eyes, you know that you are safe.
For motormen are a special breed, they love to ride the wind...
And when you hear the thunder boom, the fallen ones ride again.
By
Author Unknown
7/9/07 @ 1800hrs: The funeral service for Officer Dayle Weston Hardy will be Thursday, July 12, 2007 at Prestonwood Baptist Church at 11 A.M. with a procession to Boyd, TX for the burial.
Prestonwood Baptist Church
6801 W. Park Blvd, Plano, Tx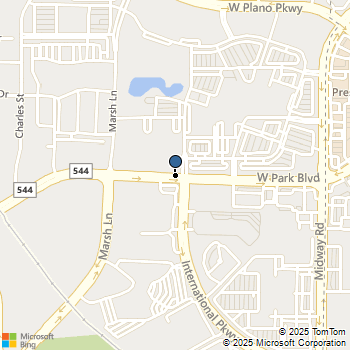 Click for an interactive map
7/8/07 @ 1800hrs: The Plano Police Department has established a small memorial site in memory of Officer Dayle Weston Hardy at his duty station, which is the Plano Police Substation located at 7501 Independence Parkway. Please do not leave items at the intersection of Independence Parkway and Russell Creek Drive due to safety concerns.